ATTENTION!! SPOILERS AHEAD!
If you never read the comic, go back now!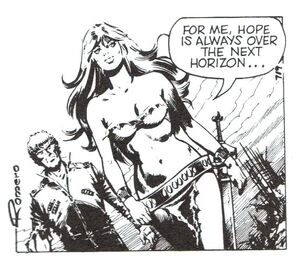 Axa is a British comic strip that ran from 1978 to 1986. It was drawn by Romero, with Donne Avenell as the original writer, and Chuck Dixon as a replacement writer when it was published under Eclipse Comics. This line of comic is highlighted by gratuitous, but tasteful nudity (its not unusual for her to lose her top, then recover it later).
Despite the cheeky, cheesecake nature of the Axa comic, it is, at its core the embodiment of the '60s-'70s sexual revolution within a world stuck in a conservative, semi-barbaric state, with Axa fighting those in power with ideas of personal freedom and pleasure.
Setting
People and Places
Cast
Creatures
External Links