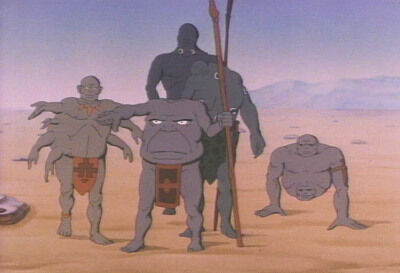 Mutant Future Wiki is an encyclopedia for everything related to the Mutant Future role-playing game, and other post-apocalyptic science fantasy fiction usable under the Mutant Future rules. This wiki allows anyone to create or edit any article, so we can all work together to create a comprehensive database for fans of science fantasy role-playing games of mutants, ruins, and radiation.
The aim of this site is to provide info and inspiration about different post-apocalypse games and settings, and to help Mutant Future fans to consolidate ideas and game materials.
If you need some inspiration on how to create a setting, then I highly recommend reading Gaming Philosophy. This site also provides a number of established settings (see bellow).
Not sure where to start?
If you are new to Wikis, check out the tutorial and feel free to test any edits in The Sandbox.
News
Update:
Userboxes have been added!
These are used in your user account to showoff what you like. The chooses are slim so far, but new Userboxes are in the works. Users may even create their own Userboxes. For more info, see Mutant Future Wiki:Userboxes. (they are only for User Pages - ideally in one's own Profile - and are not used in regular articles)
The Administrator hopes that this effort would help to draw in more members.
Old News:
There have some adjustments to the game stat Templates. For more info, see Templates.
Due to unproductive trolling by an unnamed user over the issue of the administrator's writing skills - or lack thereof - the administrator would like to remind (hopefully productive) editors that if you see or have issue with any spelling or grammatical errors, feel free to correct it. The issue of the administrator's reading disabilities have been addressed on the Goblinoid Games forum, by the administrator himself. So as a reminder to casual readers: don't expect too much from the writing, as this site is a major work in progress with little in the way of support (save for the few editors early on, and some nameless, thankless spellcheckers - thanks by the way). The administrator would appreciate what effort an editor can do to make this a great site for Mutant Future, and the post-apocalyptic genre in general. The administrator hopes casual visitors will look past the errors and enjoy what the site has to offer.
If anyone has issue with the site, contact the administrator, use the Talk Pages, or make necessary changes.
Whats New
Latest activity